This winter, our staff and artists can be seen in their glory in a number of different productions around the Bay. We are proud to have such talented teaching artists and want to support their work. Please check out these great upcoming performances.
OakTechRep presents Anthony Clarvoe's The Living
Saturday, December 13th @ 2pm & 7pm
Oakland Tech Auditorium, 310 42nd Street, Oakland.
$10.00 at the door; $8.00 for OUSD Staff and Students.
Class Assistant (and acrobat), from Lafayette Circus program, Isiaha Porter, performs.
Set during the Great Plague that tore through London in 1665, The Living explores the motivations and behaviors of a group of Londoners who remained in the city even after the majority of city officials fled. The play focuses on a cast of characters ranging from doctors to clergy to average citizens to city officials as they struggle to make meaning and keep on living during a catastrophic epidemic.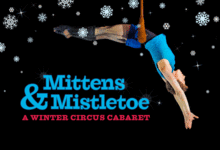 Mittens and Mistletoe: a Winter Circus Cabaret by Sweet Can Productions
December 19 – 28, Showtimes Vary. Visit Website for Details.
Dance Mission Theatre, 3316 24th St. @ Mission St., San Francisco (@24th St and Mission BART)
Featuring resident artists Natasha Kaluza and Jamie Coventry, aka Coventry and Kaluza!
'Mittens' is back with more comedy, music, spectacular circus feats, and holiday high jinks. This year's cast includes veterans from Teatro Zinzanni, Circus Bella, and The Pickle Family Circus. Come see the holiday show that everyone will love.
Unique Derique, Fool LA LA

December 20 – January 4
$15 – $35 sliding scale | $50 & $100 Reserved Seating
The Marsh Berkeley Arts Center, 2120 Allston Way, Berkeley, CA 94704
Unique Derique, aka Lance McGee MTI, aka Coach Derique, has been a resident artist and integral part of the Prescott Circus Theatre program for over 18 years.
Watch Unique Derique's outrageous Circus thrills excite you as his Hambone grooves and body moves become a live one-man-dancing-band. Join this exhilarating family fun by laughing and dancing with Unique Derique into the New Year.
Circus Bella Winter Performance
Sunday, January 25
11:00am & 2:00pm
$17.00
Jewish Community Center of San Francisco, 3200 California Street, San Francisco
This performance features resident artists DeMarcello Funes, Natasha Kaluza, Jamie Coventry PCT Director, David Hunt, and Parker Circus class assistant Keinan Woodson!
Circus Bella delivers a thrilling kaleidoscope of non-stop action! Jaw-dropping feats of balance and strength, demonstrations of extraordinary grace and outrageous slapstick antics. The circus showcases static trapeze, rope walking, a nine-person juggling act, contortion, hula-hoop, clowning and more. Set to an original score by Rob Reich, performed live.